Dr.Mahesh Kumar
Dr Mahesh Kumar has secured M.B.B.S degree from the prestigious Bangalore Medical College, in April 1995. He has completed MD in OBG from Mysore Medical College in March 2000. In October 2001, he has secured DNB (Diplomat in National Board) from New Delhi. Awarded member of National Academy of medical sciences, New Delhi in 2002. He has undergone training Ultra Sound scanning, Laparoscopic surgery and Infertility
Dr. Mahesh Kumar regularly sees 50-60 patients per day. All types of patients especially High Risk Pregnancy, Infertility Cases and Menstrual Problems, Urinary problems and Cancer Patients.
Dr. Mahesh Kumar, is conducting free health checkup camps every month with investigation and issue free medicines in villages and helping poor people by surgeries at a reasonable price.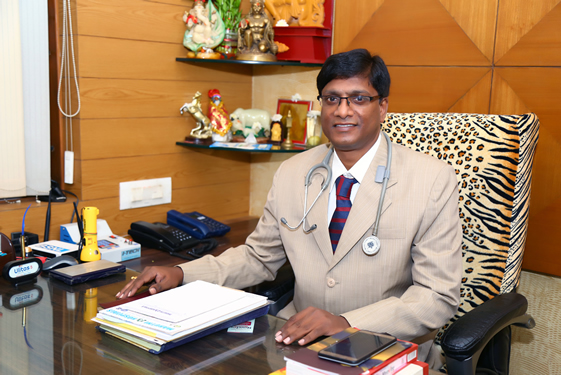 Dr. Mahesh Kumar has worked as a lecturer in Sree Siddartha Medical College Tumkur for 2 years, as Asst.Prof in Dr. B R Ambedkar Medical College Bangalore for 3 years in addition to this he has worked as associate Prof. in ACS Medical College, Chennai and Sri Rajarajeshwari Medical College, Bangalore for 3 Years. During this period he has acquired vast experience in teaching. His interest in teaching has led him to work as a Honry./Visiting Prof. in Sri Rajarajeshwari Medical College since March 2010.
He has conducted many CME, Talent workshops for the benefits of Under Graduate and Post Graduate Students. Presented many papers at the state level, National level and International Level Conferences.
Actively involved both in College & Hospital Administration. As he was very much interested in Govt. Service, he joined Vani Vilas Hospital, Bangalore as a senior consultant for 2 years and gained clinical experience. He gained further experience while working under senior Professors and Senior Consultants in major hospitals like Sree Siddartha Medical College, Tumkur, Govt. General Hospital, Tumkur, Dr B R Ambedkar Medical College, Bangalore, KC General Hospital, Malleshwaram, Bangalore.
He has performed many major operations, Laparoscopic surgeries. Gynec Onco Surgeries, I URO Gynee surgeries. Under his clinical guidance many women patients have been benefited and conceived.